putting patients first
For the past 15 years, Dr. Gracie Sturdivant and her entire staff at RGV Orthodontics operates as a team and they take great pride in each member's skills and dedication to customer service. The team is committed to making sure every patient's needs are met in a comfortable, enjoyable and fun atmosphere.
Dr. Gracie Sturdivant is the proud mother of two children and is passionate about creating healthy, beautiful smiles. Her and her dental team strive to provide a unique orthodontic experience for patients and families who care about receiving quality orthodontic treatment.
investing today for a better tomorrow.
state-of-the-art facility
We use in-house x-ray and records, which reduces radiation exposure up to 90% compared to film x-rays, and completely eliminates the use of chemicals.

Our computer system allows us to be a paperless office.  We use a computerized finger print check-in, chair side documentation and office management. Patients can also receive both email and text appointment reminders.

We use the latest orthodontic technology to provide the most advanced, efficient and comfortable orthodontic treatment experience as possible.
opportunities for lifelong results
For most people, an attractive smile is the most obvious benefit of orthodontics. The positive, confident feeling you attain by having a beautiful smile is something that carries throughout all aspects of your life. An attractive smile contributes to self-esteem, self-confidence, and a positive self-image. These are important qualities at every age. With a beautiful smile, you feel better about yourself and your interactions with others.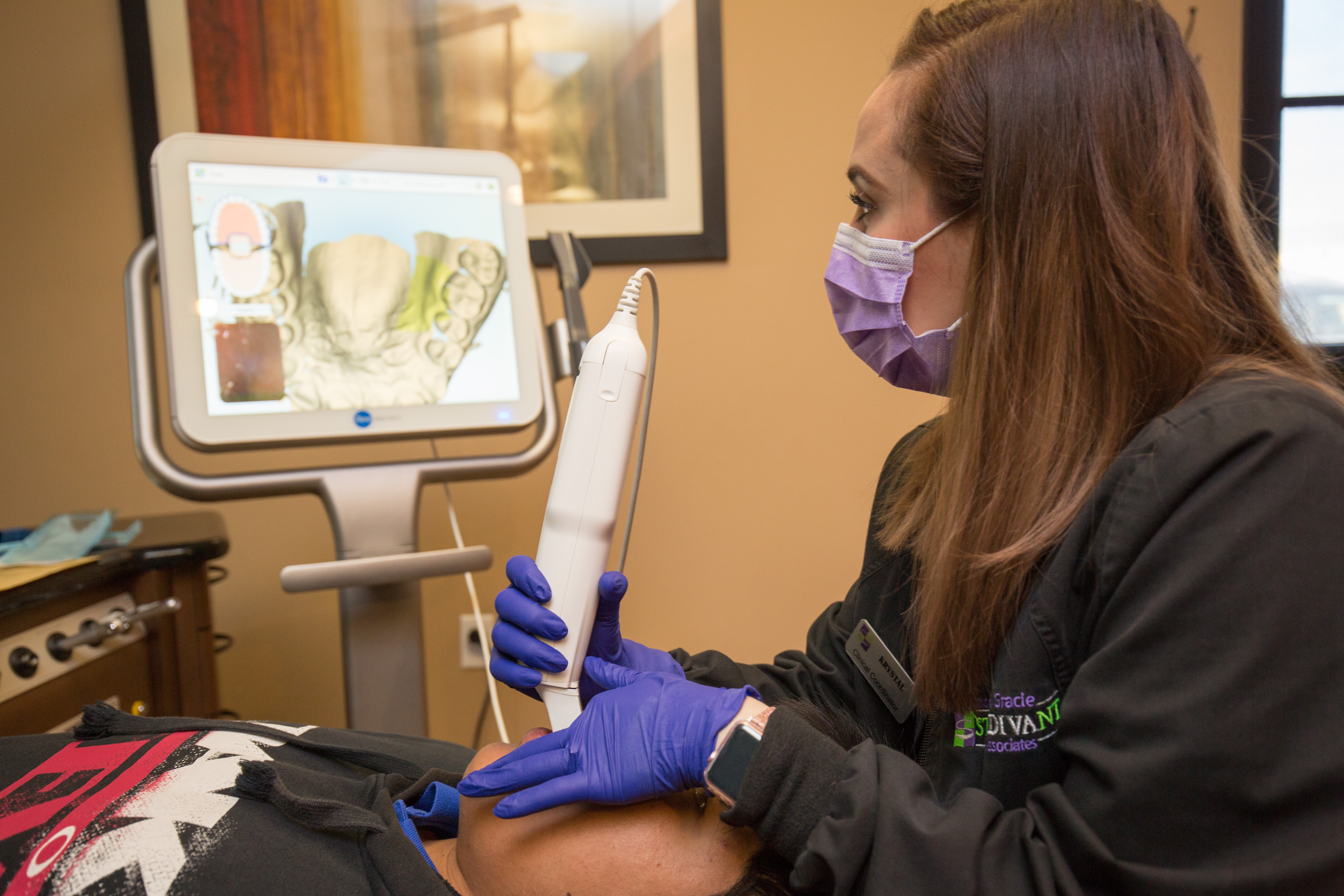 hand in hand we learn.
to have clarity
Your initial consultation will give you the opportunity to meet our team, learn more about orthodontics, receive a complete initial exam, and find out which treatment options will best meet your needs. During your initial consultation, we will:
Examine your facial profile, your teeth, and your type of bite.

Review your orthodontic problem, recommend treatment options, and suggest appropriate timing of your treatment.

Discuss all financial information, insurance options and payment plans.
to achieve our goals
Our greatest goal is to give you the healthy, straight, beautiful smile that you've always wanted. We understand that choosing to receive orthodontic care is a big decision, and we respect your reasons for wanting to improve the way you look and feel. Our practice will work with you every step of the way to make sure that your orthodontic care is as rewarding as possible. Our practice utilizes the latest technology, offering a variety of safe and gentle treatment options to give you the customized, individual care you deserve.
smile! braces are great.
orthodontics can change your world
this is our mission statement!
We are a dynamic and progressive orthodontic practice located in North McAllen. We pride ourselves on creating "beautiful"smiles with a woman's gentle touch.Our practice is committed to ensuring the best orthodontics result as well as the best orthodontic experience.Our warm and friendly staff provides personal attention to each and every patient
Here at RGV Orthodontics by Gracie Sturdivant we welcome new patients and always remain on the cutting-edge of treatment to provide you and your family with the highest standard of care possible. Our phones are answered from 9-5 Monday through Friday with special summer hours to meet your needs.
We treat you and your family with the utmost respect, care and the high level of customer service that you deserve. In addition to our office's many services, we provide proficiency in English and Spanish.
Our office utilizes the most advanced orthodontic computer system available to integrate scheduling, diagnostic treatment, patient communication and financial data. Appointment times, progress reports, financial status and treatment coordination are greatly enhanced by our system. Waiting time is minimized, and close monitoring of treatment progress helps to ensure timely completion of treatment.
Your scheduled appointment time has been reserved specifically for you. We request a 24-hours notice if you need to cancel your appointment. We are aware that unforeseen events sometimes require forgetting an appointment so you can count on us to always send you a reminder for your convenience.
It is very important that you continue to visit your family dentist once every six months, even during your orthodontic treatment, for teeth cleanings and routine dental checkups. If extra dental care is needed, we will be happy to coordinate with your family dentist to make sure that you are receiving the best care possible.
We offer a variety of options in braces. Choose from conventional stainless steel with or without colors, ceramic, gold and even completely clear undetectable braces by Invisalign. To complement our variety of braces, we also offer flexible payment plans. Click here to learn more. As a service to our patients, we have partnered with several financial agencies to offer flexibility and choice for those who are looking for payment plans to finance their orthodontic needs. Please keep in mind, these are not in-house plans and therefore should be considered different entities separate from RGV Orthodontics. They have their own policies you must follow when financial payments have been acquired through them similar to most major credit cards. For your convenience we also accept Visa, MasterCard, Discover and American Express that can be paid in office or through our website.
In order to reduce additional costs beyond your treatment contract, our patients must understand that they can compromise their treatment plan total costs by not following good oral hygiene, missing scheduled appointments, not wearing appliances and rubber bands as required by treatment and/or breaking or damaging brackets due to non-compliance of food choice. In these cases, broken/lost bracket, over treatment time or other more severe health concerns such as cavities and gum disease may cost you an additional fee beyond our contract term due to patient non-compliance.
Our office is committed to helping you maximize your insurance benefits. Because insurance policies vary, we can only estimate your coverage in good faith but cannot guarantee coverage due to the complexities of insurance contracts. Your estimated patient portion must be paid at the time of service. As a service to our patients, we will bill insurance companies for services and allow them 45 days to render payment. After 90 days of non-payment, you will become responsible for any balance not paid by your insurance company. Please feel free to call one of our staff at any time if you have any questions or concerns.
start the journey to a beautiful smile today
receive your information packet now